Calligra 2.9 Beta Released
December 14, 2014
We're pleased to present you the first beta release in 2.9 series of Calligra Suite for testing! We will focus on fixing issues including those that you'd report. All thus to make the final release of 2.9 expected in January 2015 as stable as possible!
When you update many improvements and a few new features will be installed, mostly in Kexi and Krita as well as general ones. Finally in 2.9 a new app, Calligra Gemini, appears. Read below to see why it may be of interest to you.
New Features and Improvements in This Release
New Integration: Displaying office documents in Okular
[caption id="attachment_4325" align="alignright" width="300"]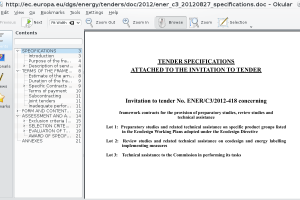 Calligra document plugin for Okular showing a DOC file[/caption]A new plugin for Okular, KDE's universal document viewer, enables Okular to use the Calligra office engine for displaying documents in the formats OpenDocument Text (ODT), MS Word (DOC, DOCX) and WordPerfect (WPD). It supplements the existing plugin from Calligra that gives Okular ability to display OpenDocument Presentation (ODP) and MS Powerpoint (PPT, PPTX) formats.
The Calligra office engine has been used for the default document viewers on the smartphones Nokia N9 and Jolla, the Android app COffice, and other mobile editions of Calligra. So it makes sense to also use the Calligra office engine for the document reader from KDE, coming with a UI designed for document consumption for people who want to read, but not edit office documents.
New application: Calligra Gemini
The same text document edited on laptop computer and in tablet mode
Calligra Gemini debuts in 2.9, a novel application encasing word processor and presentation Calligra components can function both as a traditional desktop application used with a mouse and keyboard, and transform into a touch friendly application on the go. This changes the experience to one suitable for all-touch devices without the inconvenience of having to switch to a separate application.
Read more about story behind the app.
Kexi - Visual Database Applications Builder
Many usability improvements and bug fixes. Forms have finally been ported from Qt 3 to Qt 4.
General:

New: Simplify and automatize bug reporting; OS and Platform information is auto-selected on bugs.kde.org.
New: Make side panes lighter by removing frames in all styles except Oxygen
New: Added "Close all tabs" action to main window tabs.
Improve appearance of main tabbed toolbar for GTK+ and Oxygen styles. (bug 341150)
Improve handling permission errors on database creation. Do not allow to create a new SQLite-based .kexi file if: non-writable folder is selected, relative path is selected (unsafe), non-file path is selected (perhaps a folder).
Do not crash when Kexi is unable to find plugins; display message and exit.
Fix right-to-left user interface support in side panes.
Simplify "Save password" checkbox text in database connection editor and add direct what's this button.
Disable ability of setting left/right sidebars floatable (like in Dolphin, improve stability)
Remove redundant 'find' action from the main toolbar. It's already available in local context where it really works.
Move the 'Export data table' from the main toolbar to a local table and query object's menu.
Improve user-visible messages.

Forms:

New: Port Kexi Forms to Qt4's scroll area, a milestone leading to Qt5-based Kexi.
Improve translation support in Forms' action selection dialog

Reports:

New: Added inline editing for labels in Report Designer.
New: Added "Do you want to open exported document?" question when report is exported to a Text/Spreadsheet/as Web Page.
Print reports in High DPI (precision). (bug 340598)
Krita - Creative Sketching & Painting App
New: Krita can now open multiple images in one window
New: Perspective transform
New: Liquify transform
New: Cage transform
New: Selection-shaped gradients
New: Several new filters
New: A HSV color selector
New: It's now possible to edit the alpha channel separately
New: A new feature to split a layer into several layers by color
Thin line quality has been improved
Anti-aliasing of the transform tool has been improved
It's now much easier to create masks and convert between masks and layers
Vector object scaling and resolution has been fixed
The smudge brush has been made more correct
Steps on the Undo history can now be merged
The brush preset system has been improved to make it possible to temporarily lock changes to a preset during a session
The G'Mic filter has been updated and there are previews now
Missing: Photoshop layer styles and PSD layer masks: we're working hard on those, but they aren't done yet. We're working to have them ready by the end of January. The animation tool has been disabled for refactoring. In Beta 1, Sketch and Gemini have been disabled.
Calligra Words - Word Processor
Layouting has been reworked to fix many small rendering glitches. It is the first required step before more page layouting features can be added as well as dynamic page layout changes.
Try It Out
What's Next and How to Help?
We're approaching the era of 2.9 to be released in early 2015. It will be followed by Calligra 3.0 based on new technologies later in 2015.
You can meet us to share your thoughts or offer your support on general Calligra forums or dedicated Kexi or Krita forums. Many improvements are only possible thanks to the fact that we're working together within the awesome community.
(some Calligra apps need new maintainers, you can become one, it's fun!)
How and Why to Support Calligra?
Calligra apps may be totally free, but their development is costly. Power, hardware, office space, internet access, travelling for meetings - everything costs. Direct donation is the easiest and fastest way to efficiently support your favourite applications. Everyone, regardless of any degree of involvement can do so. You can choose to:
About Calligra
Calligra Suite is a graphic art and office suite developed by the KDE community. It is available for desktop PCs, tablet computers, and smartphones. It contains applications for word processing, spreadsheets, presentation, databases, vector graphics, and digital painting. See more information at the website http://www.calligra.org.