Calligra 2.9 Beta 2 Released
January 15, 2015
We are happy to announce the second beta release in 2.9 series of Calligra Suite for you to test. We are focusing on fixing issues including those that you'd report so please continue to work with us. The next beta (3) is expected in February 2015.
This time Kexi, Krita and Sheets improved most. After eliminating of all remaining dependencies on Qt 3, Calligra is now a fully Qt 4-based software, what forms a path to a Qt 5-based series.
New Features and Improvements in This Release
Kexi - Visual Database Applications Builder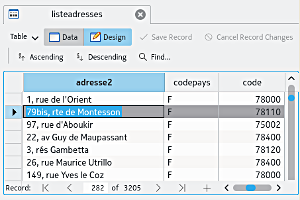 New table view in Kexi 2.9 Most importantly, tabular views (data grids) have finally been ported from Qt 3 to Qt 4, what took over 6 months of regular work.
General:

New: Add dedicated support for "Breeze" icon theme of Plasma 5.
Newly created project now does not use window of previously opened project. We're starting a new Kexi instance now. (bug 340768)
Make the project navigator more modern, a move towards Plasma 5. Tastes best with the Breeze style and icon theme.

Table view:

New: Port tabular views (data grids) to Qt 4's scroll area, a milestone leading to Qt 5-based Kexi.
New: Display "key" icon in primary key columns.
Hide the "+" button in record navigator when inserting is off (e.g. in read-only mode or in queries).

Queries:

Added "BETWEEN…AND" SQL operator support. (wish 331615)

Reports:

New: Add "Interleaved 2 of 5" barcodes support (a port from OpenRPT). (wish 341473)
New: Add "Value" property for consistency to report items (check, field, text, barcode) providing contain data that is displayed when the item isn't bound to a database field.
Fix possible hang in text report item.
Krita - Digital Painting for Artists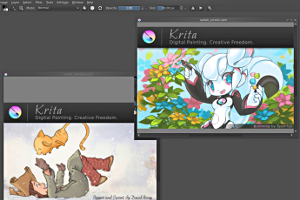 Multiple document support in Krita 2.9
Fixes and improvements with how actions and shortcuts are managed. This will help fix a lot of shortcut conflicts that existed in the past. Actions and functionality are smarter now as well. This means that buttons and menu items will be disabled/enabled when they are not available. (eg. You cannot change the canvas size if there is no documents open).
add drag and drop when there are no documents open
make the background configurable with a color or image (located in Settings > Configure Krita)
fixed a lot of multiple document bugs
rename "hairy" brush engine to "bristle" brush engine
add "flatten" action to layer context menu
PDF export - landscape and portrait now work correctly
initial tool when loaded is freehand brush
don't show menu icons unless you are using KDE
added a lot of presets for color profiles from Elle Stone
fix handling of locked dockers behaves better when changing workspaces
make it possible to convert images using 'krita –export bla.png –export-filename bla.jpg'
fix crash when mergine a multi-selection of layers that includes a group layer
Removed the selection brush; use the global selection mask and the regular brush tools instead
Make krita open new images in the current window
On Linux: use colord to get the system monitor profile, and make the system monitor profiles work in a multi-monitor setup
Fix the layout of the filter and filter layer dialogs.
Make it possible to use different OpenColorIO settings for each canvas
Improve startup speed on all platforms
Mirror axis tools now follow the rotation of the canvas
fix rotation in brush preview
fixed loading assistants
fixed toggling of painting assistants
improve how the color slider widget is used
resource bundle fixes with paint operations, loading tags, and double loading resources
prevent loading corrupt resource bundles (added MD5 Checksums)
fix lockup with perspective assistants
improve the color smudge brush engine so it doesn't darken too much
lots of fixes for working with resource bundles
bug fixes when selecting shapes
fixed some computer systems that weren't loading preset bundles correctly
fixed color selector crashes when no document open
fix switching between landscape and portrait orientation
lots of fixes with handling multiple open images and the dockers
update gmic to version 1.6.0.3
enable interactive filters like colorize [interactive]
implement progress reporting when applying filter
if gmic script fails, inform user about the error message
fixed lost filtering when you select filter and click ok
fixed a bunch of multi-document specific issues
fixes when selecting colors with the advanced color selector
brush sizes are back to having 2 decimals to prevent issues
fixed a few bugs related to the crop tool with properties and resetting
fixed saving split alpha mask
fixed a lot of bugs in the dirty presets feature
fixed mirror tool working with shapes like circles and rectangles
fix shaky lines on 32-bit systems when using canvas rotation
fixes to the cage transform tool
Improve handles for the transform tool
fixes to the opacity slider
fixes to the tablet handling (make working with vector shapes with the tablet possible again)
make the liquify tool handle build-up/wash mode properly
new color smudge presets
Fix a bunch memory leaks and double deletions
Fix crash when adding drop shadow effect
Fix crash when closing a document while moving the stylus
Fix the opengl canvas for some (notably AMD drivers). More fixes coming up!
updated layout for resource manager
mirror tools have updated UI
G'MIC has been moved to filters in the menu
Resource manager has moved to settings
"Size Canvas to Size of Current Layer" is renamed to "Trim to Current Layer" and "Size Canvas to Size of Selection" is renamed to "Trim to Selection"
Lots of warnings fixed that only show up with clang, quite a few of which unconvered real bugs.
Fix thumbnailing for .kra and .ora files
Add a shortcut to toggle the assistants on and off
Fix pasting text in a multi-line text shape
Calligra Plan - Project Management
Make icons match the proper size.
Calligra Sheets - The Spreadsheet
Speed up drawing of complex documents
Updated default currency to Euro for Lithuania
Do not crash in the table shape when the external editor is not available
Fix up mouse interaction with the table shape
Fix a problem with non-native files not being openable
Fix sorting to properly update formulas instead of discarding them
Fix Find/Replace to not skip the last row
Fix a deadlock within a COUPNUM function
Try It Out
What's Next and How to Help?
We're approaching the era of 2.9 to be released in early 2015. It will be followed by Calligra 3.0 based on new technologies later in 2015.
You can meet us to share your thoughts or offer your support on general Calligra forums or dedicated Kexi or Krita forums. Many improvements are only possible thanks to the fact that we're working together within the awesome community.
(Some Calligra apps need new maintainers, you can become one, it's fun!)
How and Why to Support Calligra?
Calligra apps may be totally free, but their development is costly. Power, hardware, office space, internet access, travelling for meetings - everything costs. Direct donation is the easiest and fastest way to efficiently support your favourite applications. Everyone, regardless of any degree of involvement can do so. You can choose to:
About Calligra
Calligra Suite is a graphic art and office suite developed by the KDE community. It is available for desktop PCs, tablet computers, and smartphones. It contains applications for word processing, spreadsheets, presentation, databases, vector graphics, and digital painting. See more information at the website http://www.calligra.org.